China's stocks headed for their lowest level since September, the yuan retreated and default risk increased after Moody's Investors Service cut its rating on the nation's debt for the first in almost three decades.
The Shanghai Composite Index declined 0.8 percent at 10:17 a.m. local time, poised for its biggest loss in two weeks. The yuan dropped 0.1 percent against the dollar, and the cost of insuring five-year sovereign debt from nonpayment rose 3 basis points.
The Moody's downgrade to A1 from Aa3 comes as local investors desert the equity and bond markets amid a government campaign to cut risk in the financial sector. The Shanghai gauge is the world's worst-performing major benchmark index this quarter, sliding 6 percent. The yield on China's 10-year government debt is at 3.68 percent, close to a two-year high.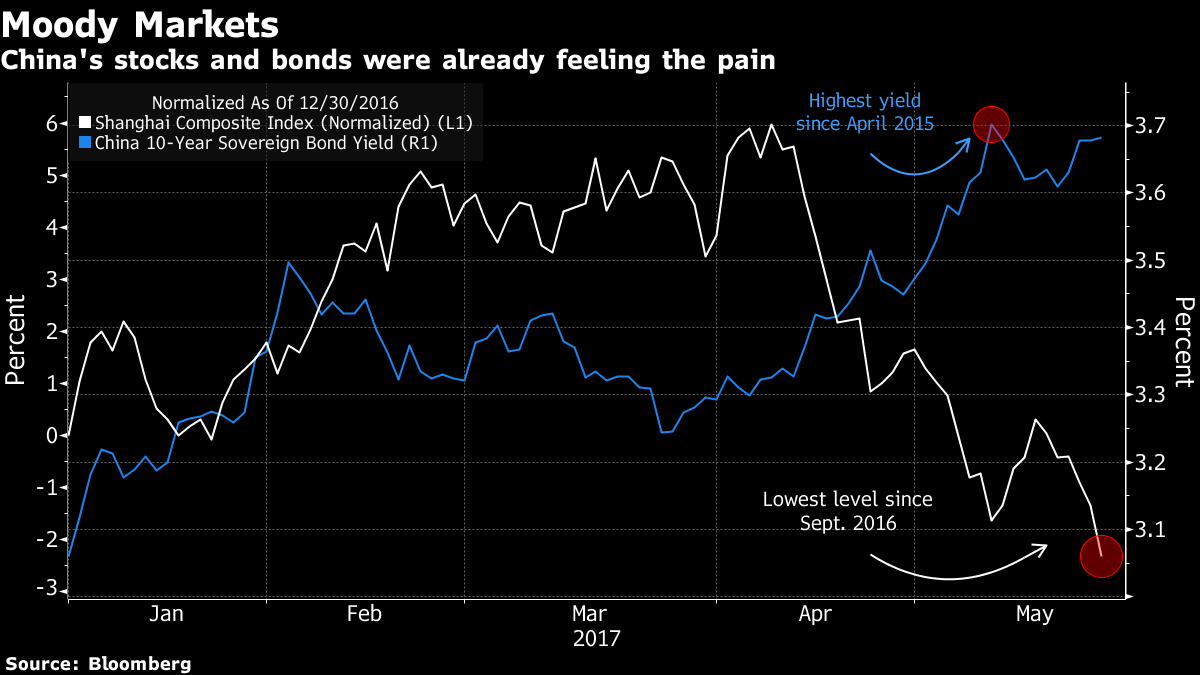 Chinese stocks are facing a "bigger challenge" than the Moody's downgrade, said Hao Hong, Hong Kong-based chief strategist at Bocom International Holdings Co. "As the market wobbles, many of the stocks used for pledged loans are nearing the level that could trigger margin calls. This is probably a bigger risk near term. So together with this rating downgrade, it is negative for the market – but not just the downgrade itself."
Moody's cited the likelihood of a "material rise" in economy-wide debt and the burden that will place on the state's finances. Total outstanding credit climbed to about 260 percent of GDP by the end of 2016, up from 160 percent in 2008, according to Bloomberg Intelligence.
"The timing of the downgrade came as a surprise," said Sandra Chow, senior analyst at CreditSights in Singapore. "So the surprise element may cause a knee-jerk negative reaction, but the chase for yield may draw spreads back in eventually." 
Moody's lowered China's credit-rating outlook to negative from stable in March 2016, citing rising debt, falling currency reserves and an uncertainty over authorities ability to carry out reforms. About a month later S&P Global Ratings also warned that rising local debt was pressuring the nation's rating.
Consumer staple, health-care and utilities shares were among the biggest losers on mainland markets. The ChiNext gauge of small-cap companies erased a loss of 1.6 percent to trade 0.1 percent higher, while Hong Kong's Hang Seng Index dropped 0.3 percent.
Read more: https://www.bloomberg.com/news/articles/2017-05-24/china-stocks-slump-yuan-falls-after-moody-s-cuts-credit-rating